Roof Repairs Leicester
From slipped tiles, to rafter replacements we take care of it all. Find out more about our roof replacement services.
Roof repairs are crucial for maintaining the integrity and longevity of your roof. Neglecting to address minor issues can lead to more extensive and more costly problems in the long run. It's essential to regularly inspect your roof for signs indicating that your roof needs attention. Identifying the source of damage and finding a reputable contractor to perform the repairs can be challenging. However, it's essential to invest in regular maintenance and repairs to ensure the safety and stability of your home. A well-maintained roof can also increase your home's energy efficiency, saving you money on energy bills.
When searching for a roof repairs Leicester, it's essential to do your research and ask for references. Look for a contractor with a proven track record of high-quality work and positive customer reviews. Our roofing contractors work to the highest standards to perform the work and ensure the repairs are done correctly.
Roof repairs can be a significant expense, but they are necessary to ensure the safety and well-being of your home and family. A damaged roof can leave your home vulnerable to leaks, water damage, and other issues, which can be costly.
At Leicester Roofing Services, our professionals are highly qualified and experienced in roof repairs. We recognise the importance of protecting your home and family from the weather and further damage, and we provide you with the best service possible.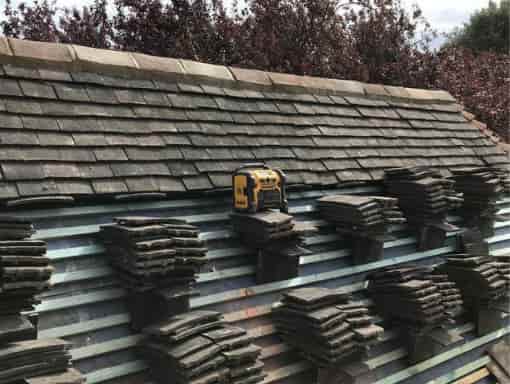 The most common roof repairs include the following:
Leaking Roof
Roof leaks are one of the most common types of roof repairs. Various factors, such as missing or damaged shingles, cracked flashing, or clogged gutters, can cause them. To repair a roofing leak, it's essential first to locate the source of the leak. It can be challenging, as leaks often manifest in areas other than where the problem originates. Our experts will identify the source of the leak and repair it promptly to prevent further damage to your home or property.
Damaged Shingles and Roof Tiles
Shingles are a critical component of your roofing system. They are the protective layer that covers the roof and helps to keep water out. However, shingles can become damaged over time due to various factors, such as exposure to extreme weather conditions, improper installation, or natural wear and tear.
Damaged shingles or tiles can also leave your roof vulnerable to leaks and water damage. Our professionals will assess the extent of the damage and replace any missing or damaged shingles to ensure your roof is adequately protected.
Clogged Gutters
By diverting rainfall away from your home's foundation and walls, gutters play a critical part in preventing water damage. However, when channels become clogged with debris such as leaves, twigs, and even small animals, it causes water to back up and overflow, damaging your roof and walls.
Our experts will clean and maintain your gutters to ensure proper drainage and prevent water damage. We will remove all debris, leaves, and other materials that may have accumulated over time and check for any damage or leaks. We'll also review the gutter's angle and slope to ensure it directs water away from the foundation and fits the downspouts to ensure that water is being directed away from the property.
Damaged Flashing Around Vents and Chimneys
Lead flashing is used to seal the areas where the roof meets other building parts, such as vents, chimneys, and skylights. It is an essential component of your roofing system as it helps to prevent water from seeping into these areas and causing leaks and water damage. However, flashing can become damaged over time due to various factors, such as exposure to extreme weather conditions, improper installation, or natural wear and tear.
Our professionals will inspect, repair, or replace any damaged lead flashing to ensure your roof is properly sealed and protected. We will check for any cracking, warping, or corrosion in the flashing and repair or replace it as necessary. We will also ensure that the flashing is properly sealed and in good condition to ensure that it will effectively prevent water from seeping into the vents and chimneys.
We understand the importance of maintaining your roof and the surrounding areas, such as the lead flashings. Our skilled team of professional roofers is qualified to help with any lead flashing and roof repairs. We understand that inspecting the affected area can be difficult and dangerous for most people. That's why we offer a video recording service so you can see the problem before we commence any work. This way, you can better understand the issue, and we can provide you with a more accurate estimate of the cost and time it will take to complete the repairs.
How do you maintain a roof?
The secret to maintaining a roof is routinely inspecting it and taking appropriate action as needed. Look for leaks, missing or broken tiles, and other indicators of wear and tear on your roof. To stop future harm, you should address any issues as soon as you see them.
Keeping your roof clean is one of the most crucial things you can do to maintain it. Over time, debris can accumulate and clog drainage systems, causing water damage. Regularly clear your roof of any leaves, twigs, or other debris.
What are the most common roof repairs?
The top roofing repairs that are frequently needed include:
Fixing leaks.
Replacing missing or broken shingles.
Addressing damage caused by storms or strong winds.
It is vital to address any roofing issues immediately to prevent further damage. Contact us anytime, and we will handle all your roofing repair needs.
How often should you repair your roof?
The need for roof repairs can vary depending on the state of your roof and your region's climate. However, it is advisable to inspect your roof at least annually and attend to any issues that arise promptly.
Regular roof inspection and prompt action are crucial for maintaining your roof. By staying vigilant, you can ensure that your roof lasts longer and remains in good condition.
Repair or replace a roof?
For homeowners, deciding whether to repair or replace a roof might take some time. The decision is based on several elements, including the damage, the available money, and the roof's age. Repairing a roof is often a more cost-effective solution. However, if the damage is severe and constantly requires repairs, replacing it might be more cost-efficient.
Roof maintenance and repairs are crucial for any home. By inspecting your roof regularly and acting promptly, you can help ensure that your roof lasts for many years. Contact us today if you need roof repairs or replacement, and our professionals will assist you.
Felt roof repairs
Felt roofs are prone to water damage and need regular maintenance to ensure longevity. To prevent further damage, you should address this common issue with felt roof leaks.
Another frequent problem is moss and algae growth which can damage the roof and pose a safety hazard. Remove the moss or algae on your top as soon as you see them.
If you need roof repairs, contact us at Leicester Roofing Services today, and our professionals will assist you. We offer various roofing services and will help you find the best solution for your roofing needs.
Roofing Leadwork
Leadwork on roofs is a crucial aspect of roof maintenance and must be kept in good condition. Leadwork can be impacted by various factors such as weathering, corrosion, or impact.
It is crucial to have it inspected regularly and act as needed. If you need leadwork repairs, please get in touch with us today. Let our team of experts handle all your leadwork needs.
What is the purpose of lead flashing?
Lead flashing is a vital component of roofing. Its primary function is to prevent water from penetrating the roof and entering the building. It is crucial to maintain its good condition. Lead flashing is a lead strip between the joint to form a durable and waterproof seal. Lead is used in areas where the roof and wall meet, around windows, doors, and chimneys. Our professionals will assist you if your lead flashing needs repairs or maintenance. Contact us anytime to discuss your roofing needs.
What are lead soakers?
Lead soakers play a vital role in roof leadwork. They are used to direct water away from the roof and prevent leaks into the building. They also help to prevent ice and snow build-up. Therefore, it is essential to keep them in good condition. Damaged or blocked lead soakers can result in water damage to your roof and property. If you require lead soaker repairs, don't hesitate to contact us today; our professionals will be happy to assist you.
An amazing service. Mac took great care of my roof. I was concerned as a few loose tiles had fallen off after a heavy storm. He made sure they were replaced and the roof was secured. He carried out the repair to my ridge tiles perfectly. Highly recommended!
As a property developer, finding decent contractors is difficult. I've used Mac a few times for new roofing projects and repairs, and would not go anywhere else. A true professional that takes great pride in his work.
We cover all of Leicester and the surrounding areas. If you found our site by searching for 'roofing near me' or 'roof repair near me' then we almost certainly will cover your area too.
Whatever your requirements are, please do get in touch anytime and we will deal promptly with your needs.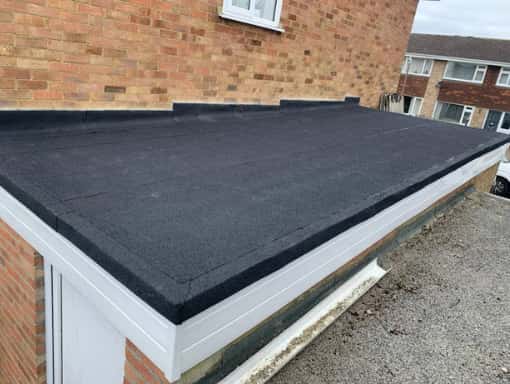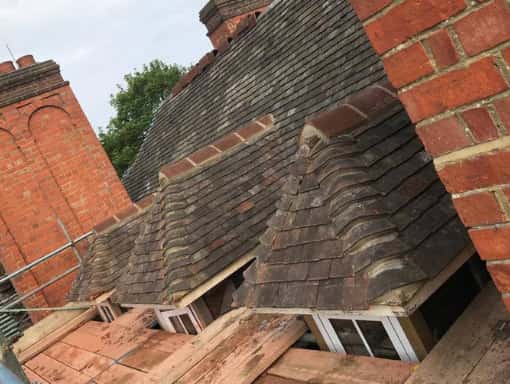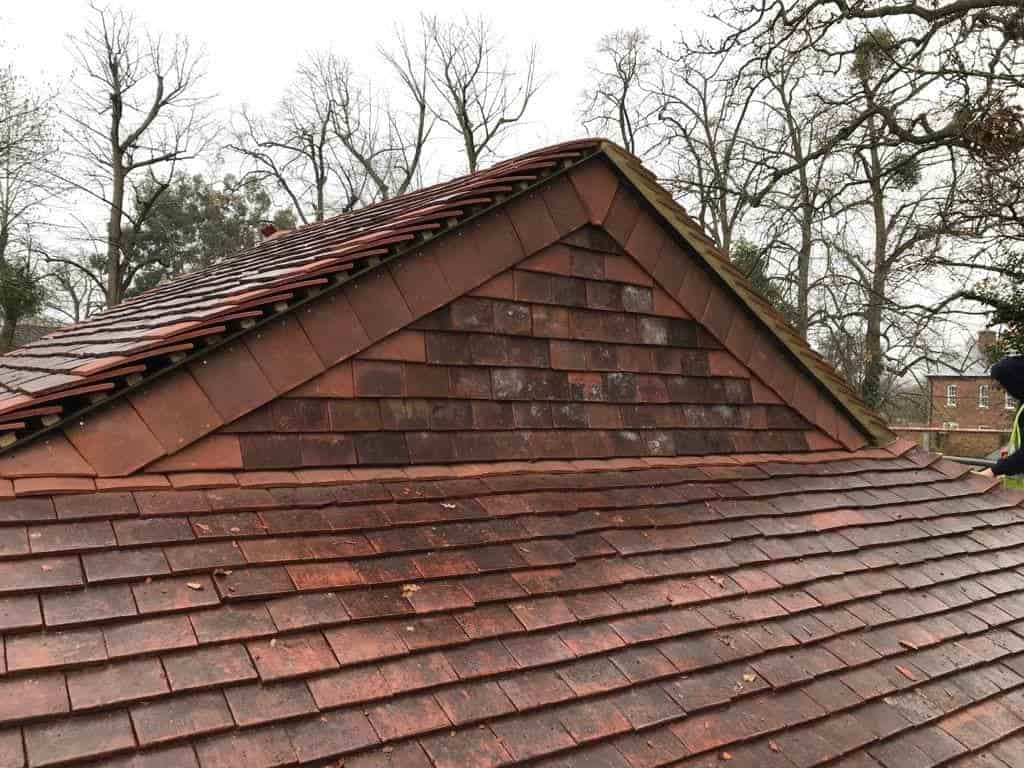 Our other roofing services
New | Roof Replacement
All roofing installations undertaken by a local professional contractor. We cater for all types of roofs. Check out more information here.
Other ROOFING SERVICES
Leadwork
Roof Inspections
Roof Surveys
We cater for all roof services.